Description
We add our hot wax service to your skiboards before we ship. We do a complete hand hot wax of your skiboard bases with universal Glide-on wax (our favorite) by Topo Wax. A hot wax is recommended not only to protect your bases, but also to provide maximum glide. Hot wax includes a tip-to-tail coat of hot wax, smooth scrape and buff. Now you are ready to ride!
Hot wax is essential for all skiboards as well as skis and snowboards in general. However, particularly essential for high end sintered bases like that featured on Summit Skiboards. Sintered bases are a special porous made to retain wax for better performance.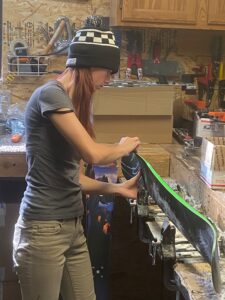 This is a similar hot wax to what you would get in any ski shop or at a ski resort, except with our awesome Topo Wax and hand hot wax service. Save the time of travel and expense and get your new skiboards dropped off at your door ready to go.
More About Sintered Bases:
#1: Holds Wax well. Yes you have to wax all skiboards but sintered bases are better with holding wax, which means you should get a fair bit out of your waxing – and this should also help with prolonging the life of the base.
#2: Speed. A well waxed SB will accelerate quicker and glide much more easily on those slight up-hills and flat sections. They are also faster through powder and slush – particularly the sticky kind.
Con #1: Maintenance. In order to maintain its speed advantage, sintered bases will need to be regularly waxed. If you are riding a lot this should be a regular task anyway regardless of type of base you have. If you don't mind doing yourself, consider getting our Skiboards.com Quick Mini Tune Kit with wax, edging tools and more.