A few basic tips on how your ski bindings should fit. Skiboard bindings and boot fit require proper fit so they perform correctly. What you don't want is your bindings coming off while riding because they were not properly adjusted. If you are a do-it-yourselfer, then read this. Otherwise, we always recommend taking boots, skiboards and bindings to a certified ski tech (at all resorts). As well you want ski boots that fit correctly so you have a great comfortable day on the slopes.
Ski/Skiboard Boot Fit
What you want for skiboarding is a comfortable pair of boots that provide proper support.  Boots should fit snug, but also comfortable. Toes should be able to wiggle and not be cramped in the front of the boots. On occasion, hot spots and pressure points can occur. Boot fitters are well worth the money in this case to have your boots fit just right. Comfort is always a top priority so either try a bunch on at a local shop or find ski boots with thermofit liners that custom mold to your feet.
Our Alpina Skiboard Boots do have thermofit liners. We sell these on Skiboards.com and our customers are very happy with these. They are excellent for both comfort and performance and work great for riding skiboards.
Make sure that you dry the inner liners after skiboarding. This prevents molds and fungus from growing. Pull out the liners and let them dry at room temperature. Also, store the boots with buckles latched so they will hold their shape. One more tip is to keep your boots warm when heading to the mountains as they will fit better and go on easier. And cold boots do suck so take them in the house overnight.
Ski Binding fitting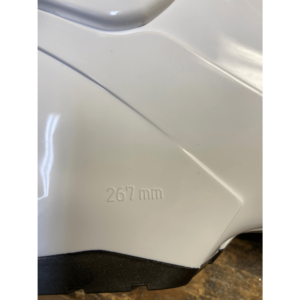 With our adjustable bindings, if you choose to adjust to your boots yourself, then first find the sole length of your boots as the adjustment range is in millimeters. Boot sole length is on the shell towards the bottom in same color as shell. It is a 3 digit number with "mm" after it. Ex. "338mm" Adjust the toe and heel to the same range that your sole length fits into. Double check by putting your boots in the bindings and make sure they are secure. Most binding manufacturers make bindings that have some micro-adjustments just in case you need to tighten up a bit.
When you get to the lift, before you snap your boots into your bindings, very important to remove any snow from the bottom of your boots. Otherwise, as you ride, when this snow comes off your bindings may not fit properly and can come off when riding.
DIN (release) Setting on Ski Bindings
It is essential that the proper DIN setting is set on your bindings so bindings will release when they should and not release prematurely. If setting yourself, make sure you visit this: