Description
Introducing the new Alpina XTrack 70 Skiboard Boots Black for the 2022/23 season. These are the ultimate skiboard boots with so many perfect features that are just perfect for having an awesome day on the slopes. We've carried Alpina boots for years and continue to be super happy with their quality and performance.  These are beautiful looking skiboard boots (online photo doesn't do them justice).
These new Alpina XTrack 70 Skiboard Boots Black are really comfortable, especially compared to the fit of most alpine ski boots. These feature an anatomical footbed and ergonomic shell with micro-adjustable caches making it easy to get just that perfect fit. Boots can be adjusted to fit almost any calves thanks to an additional feature of movable rachet. With a thermal performance fit liner that conforms to the shape of your feet and an easy entry/exit, these are a delight over traditional alpine ski boots. With room for your toes, your feet can remain warm even on the most bitter cold days. Faux fur liner at the top adds to the super cushion comfort of these great boots.
Beside comfort however, these Alpina XTrack 70 Skiboard Boots deliver maximum power transfer to your edges for smooth side-to-side carving. With a more natural, upright stance these boots allow the proper centered stance, just right for skiboarding. These also feature a 35mm power strap at the top that allows a further custom fit and adds to maximum performance.
Boot bottoms offer sure grip stability when walking to and from the lifts. These pads are replaceable if they get worn.
NOTE: We now offer an Alpina Heel/Toe Grip Walk option for additional traction in hard pack and ice and are compatible with Grip Walk Ski Bindings.
These fit traditional ski bindings like our Atomic M10 bindings as well as the Atomic MNC AT bindings and AT bindings or any ski bindings. Read more about skiboard bindings.
Features:
Soft Entry and Soft Mid Step Lightweight Micro Adjustable Buckles VCP:  Volume Control Plate Flex:  70 Lining: Xtrack comfort liner Anatomic, air ventilation footbed 4 Macro adjustable catchers Adjustments:  Power strap 35 mm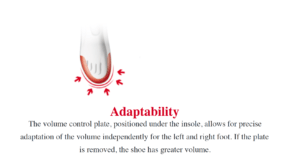 Adaptability: The volume control plate positioned under the insole allows for precise adaptation of the volume independently of the left and right foot. If the plate is removed, the boot has greater volume.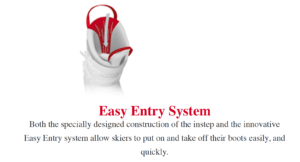 Easy entry System: Both the specifically designed instep and the innovative Easy Entry System allow you to put on and take off your boots easily and quickly.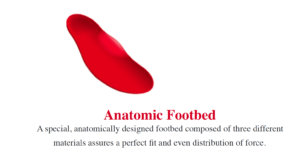 Anatomic Footbed: A special, anatomically designed footbed composed of three different materials assures a perfect fit and even distribution of force.
Alpitex: The top quality Alpitex membrane provides additional protection from snow, water and cold. It allows for a high degree of comfort, even in extreme weather conditions.
Color:  Black
Last Width: 104
MSRP: $249
NOTE: We also offer the Atomic Ski Boot Carry Bag and Sport Tube Wanderer Boot Bag if you want a bag to carry your ski boots and keep them protected. Room for socks, gloves, etc.
Sizing: With skiboard boots, since you stand upright, choosing your regular shoe size or 1/2 size larger to accommodate thicker socks is usually just right. These can be returned and exchanged for another size if needed. For women wanting to purchase the Alpina Xtrack 70 boot, choose a size lower (Ex. women's 275 would be men's 265).
Sizes available:
NOTE: Alpina boots come in half sizes only. Ski boot shells are the same size for a whole and half size. Alpina boots will fit two different sizes in the same shell. The adjustment for this is the volume control plate. First try on the half size, if it doesn't fit as snug as you want, take out the inner liners of both boots, then take out the volume control plates and switch to the other boot. Then replace liners.
| | |
| --- | --- |
| Mondo | US Boot Size |
| 265 | 8-8.5 |
| 275 | 9-9.5 |
| 285 | 10-10.5 |
| 295 | 11-11.5 |
| 305 | 12-12.5 |
| 315 | 13-13.5 |
| 325 | 14-14.5 |