Description
Alpina is our favorite boot manufacturer, providing just the right upright stance, comfort and price to ride skiboards. In addition, to the men's Xtrack boots we have been selling for years, we offer a woman specific boot ergonomically designed for women's feet. These Alpina Women's Eve 65 white skiboard boots are sharp looking as well as comfortable. Features include: a 4 macro adjustment buckle design with velcro power strap for the perfect fit; a thinsulate liner for extra warmth with fur lining at the top and a removable volume control plate to provide a choice of fit. These also feature a comfortable entry/exit and anatomic footbed. Adjustments for larger calves is also a built in option. These feature grip walk soles for ease in walking.
In Stock.
Developed specifically with women's anatomy, these Alpina Women's Eve 65 White Skiboard Boots are ergonomically designed boots just right for skiboarding. For you skaters out there, this has more the feel of skate boots.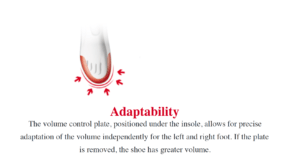 Adaptability: The volume control plate positioned under the insole allows for precise adaptation of the volume independently of the left and right foot. If the plate is removed, the boot has greater volume.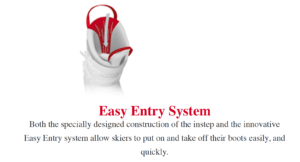 Easy entry System: Both the specifically designed instep and the innovative Easy Entry System allow you to put on and take off your boots easily and quickly.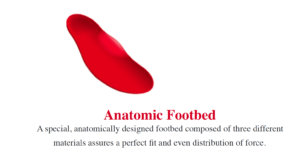 Anatomic Footbed: A special, anatomically designed footbed composed of three different materials assures a perfect fit and even distribution of force.
Ski/hike
Switching between ski and walk modes has never been easier. This allows you to have an even more upright stance and makes it easier to walk.
Alpitex: The top quality Alpitex membrane provides additional protection from snow, water and cold. It allows for a high degree of comfort, even in extreme weather conditions.
Volume Control Regulator: Behind the calf for perfect fit (can be removed to allow more volume).
Color: White.
We offer the Atomic Ski Boot Bag and the Sport Tube Wanderer Boot bag to carry and protect your ski boots in transit.
MSRP: $249
Flex Index: 65
Warranty: 1 year from date of purchase.
NOTE: Alpina boots now come in half sizes only. Ski boot shells are the same size for a whole and half size, thus Alpina boots will fit two different sizes in the same shell. The adjustment for this is the "volume control plate". First try on the half size, if it doesn't fit as snug as you want, take out the inner liners of both boots, then take out the volume control plates and switch to the other boot. Then replace liners.
Women's U.S. sizing:
Mondo                    US Sizing
| | |
| --- | --- |
| 245 | 6-6.5 |
| 255 | 7-7.5 |
| 265 | 8-8.5 |
| 275 | 9-9.5 |