Attached to your boards but want to upgrade your bindings?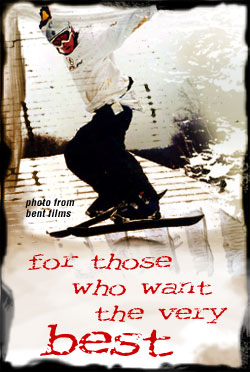 We are often asked if skiboards that feature non-release bindings can be upgraded to release bindings. The answer is: Sometimes! If it is the standard skiboards mounted with 8 hole non-release bindings, we can mount release bindings, however there will most likely be 8 holes in the skiboards in addition to the ones we drill (though we do fill the holes). So it depends really on how much you have invested as to whether to upgrade to a more high performance model or keep what you have. We usually use heli coils (inserts) for extra retention to compensate for the existing construction. Price is dependent on what skiboards you want converted.
Release Bindings:
We do free mounting on ski release bindings when purchased from us. You can however buy your skiboards without bindings and have your own ski bindings mounted. This is normally done with skiboards that can be purchased without bindings already mounted on them. (While you can have the existing bindings removed, it will require patching the holes and then redrilling for your ski bindings. This may cause a compromise in performance and durability.) For mounting your own bindings, check with your local ski shop or call us for more information on mounting position.
AT bindings:
We do mount AT bindings that we carry and offer free mounting if purchased with our skiboards. You can definitely mount cross country bindings, AT bindings or even tele bindings to skiboards. We recommend the Summit brand for this purpose. If you want to mount your own bindings, contact your local ski shop. Contact us for mounting instructions or have the shop do so.
Snowboard Bindings:
We get asked all the time – Can I use my snowboard bindings and snowboard boots on skiboards? The answer is – YES! But here is some important information to consider.
What skiboards do snowboard bindings work with?
You need skiboards with the standard 4X4 stainless steel insert pattern such as most of the Summit Skiboards models or Snowjam 75cm or Snowjam 90cm skiboards with inserts. You can then screw snowboard bindings directly into the inserts. This combination works with standard snowboard bindings. You will need a riser kit however to lift the snowboard bindings up a bit so when carving, the wider snowboard bindings don't catch on the snow. For this we offer two items: the Summit Snowboard Binding Riser Kit and the Snowboard Bindings Adaptor Kit (includes Summit Riser kit, third expert bootster straps for your bindings and extra leashes).
Wider skiboards such as those mentioned above provide a better carving platform for the wider snowboard bindings. This is the case with the Summit skiboards and Snowjam.
We offer snowboard bindings in our shop:
The advanced level Technine Custom Pro DS Snowboard Bindings that feature a metal base, 3 straps and wrap-around cuff at the top for more aggressive riders or those soon to be. These also include the Summit Riser Kit.
Snowboard Soft Boots? Keep in mind with snowboard soft boots that you may want to compensate in your riding style for the softness in your boots. We suggest using a snowboard boot that has some stiffness, especially on the sides. You can purchase Snowboard Boots using this link.
Need Parts?
We have an extensive assortment of binding parts (toe levers, riser plates, bolts, etc.), leashes as well as specific bindings that fit many older (now out-of-stock skiboards). If you need something, call or email us.
Call 800-784-0540 for more information.