"Welcome to the awesome sport of Skiboarding! Skiboards offer the fastest learning curve on the slopes and no more limits to the fun and freedom you can experience on the slopes. There's a reason we say Pure Fun from Day One! If you are new to skiboarding read on. Skiboards will open up a whole new world of excitement and possibility."
– Doc Roberts, President, and the Staff of Skiboards.com
[one-half-first]

See what many others are saying about their first time on skiboards.
Why Skiboards?
For first timers, the answer is easy: instant gratification! Skiboarding literally lets anyone go from beginner to fearless expert inside one season (or less), experiencing the same freedom and exhilaration that long-time snowriders gain after years of practice.
Experienced skiers and snowboarders are making the switch – blasting through the limitations of their old equipment on a snowriding tool with a learning curve of almost zero. Skiboarding provides an extreme level of maneuverability and control that makes the whole mountain your playground, and challenges you to invent new ways to ride it. Why skiboards? Why ride anything else!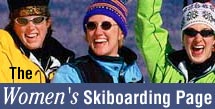 [/one-half-first]
[one-half]Don't know where to start? Let our Choosing the Right Skiboards recommend the right skiboards for you! 

Beginners
Skiboards offer beginners the shortest learning curve on the slopes. For those with previous snowriding skills, often lessons aren't necessary. Skiboards make it easy to control your speed and begin carving like a pro. With no tips to cross, skiboards eliminate the awkwardness a beginner on long traditional skis experiences. Turning and stopping are no longer a mystery, steep slopes aren't intimidating, powder is now a pleasure and moguls can now be enjoyed.
Intermediates
You will be amazed at the leap in your skiing ability the first day on skiboards. Steep mogul fields are no longer off limits. Pick your line and go. Tree skiing isn't the nightmare it once was. Jumping and performing tricks, once the domain of experts, is now within the grasp of intermediate recreational skiers. Elevate your game to a new level.
Experts
Here's the opportunity to master a new sport, use your skills to take this sport to a new level. Carving a huge, fast turn on a pair of skiboards and dragging your hand in the snow is a whole new experience. Discover the rush of tree skiing at speeds you've never attempted on long skis. No limits, pure freedom!
[/one-half]