Description
The Summit Invertigo 118cm 3D Rocker/Camber Skiboards feature a unique combination of 15% Rocker front tip, 80% traditional camber and 5% rocker tail. What does this mean? It means riding through soft snow is an almost effortless ride, feeling more like surfing! This unique combination of rocker tips and tails with traditional camber delivers super fast turn initiation, a short turning radius more like a 110 cm length, yet offers amazing edge grip on hard pack and ice, making it even easier to carve from one edge to the other. As well, this combination also gives you multiple sweet spots to explore throughout the length of the skiboards for endless playtime!
This is the original "One Skiboard Does It All Design". The Summit Invertigo 118 skiboards are equally at home on hard pack/ice, moguls, glades, cruising the groomed runs, terrain parks or, yes, floating through powder with ease. The Summit Invertigo 118cm 3D Rocker/Camber Skiboards are designed to be the ultimate "fun" skiboard, Though 118 cm in length, these have the feel of something much shorter, more like a 99 cm in how fast they turn. Yet ride with the speed of something much longer. The tip-to-tail Northern Birch/poplar wood core provides a super smooth flex allowing you to truly enjoy your ride every time coupled with the wide body construction and fast sintered bases that offer surprising speed. The Invertigo's are true all mountain, all condition skiboards. AND if you are lucky enough to get those perfect blue sky days with untracked powder days, these are the ones you want to be riding.
The rocker/camber design brings a new evolution of performance to skiboards, fast and yet so incredibly easy to turn.  The early rise tail dramatically increases the skis maneuverability, while maintaining directional stability for high speed charging. With traditional camber, you get amazing edge grip on ice/hardpack. Rocker tip/tail design provides easier riding transitions in powder, clumps of snow and slush, tending to ride up and over while preventing tips  from digging in. Rocker design also allows more control with slightly shorter turn radius for easier steering and stopping. These will definitely bring a smile to your face all the way down the run.

These are constructed with a custom 3D Carbonium topsheet that provides amazing durability, yet allows the graphics to pop without distortion. These look so much better in person than we can portray on the web.
Yes, these feature symmetrical twin tips (for those who love to ride or land jumps backwards). This also makes turn initiation even easier, especially combined with the early rise tips and tails.
Recommended for: Intermediate to expert riders.
Great for: Adventurers! These excel in powder and soft snow, big mountain riding, cruising on the open runs (be it intermediate or advanced), backcountry and basically anything you care to do. There are truly no limits with the Summit Invertigo 118cm 3D Rocker/Camber Skiboards.
| | |
| --- | --- |
| Groomed: | ∆∆∆∆∆ |
| All Mountain: | ∆∆∆∆∆ |
| Terrain Parks: | ∆∆∆∆∆ |
| Powder: | ∆∆∆∆∆ |
| Backcountry: | ∆∆∆∆∆ |
Here is what one person has to say: "I have now been on these boards for more than 10 days.  All I can say is wow!!! These 118's had no problem handling the hard pack and even the ice.  Didn't chatter once on the ice or steeps.  In the deeper snow the Invertigo's rode high and kept me on the surface so I could enjoy the soft snow and feel in complete control all the way down.  I have been Skiboarding for more than 15 years.  These are by far the best boards I have ever used.  Just a complete all mountain performance leaving you with nothing but a smile each and every run." Mike J.
Sold in pairs.
Tuning: You can choose to have us provide a hand hot wax prior to shipping. Edges are already tuned.
Warranty: 2 years
Binding Options:
Atomic M10 Step-in Release Bindings. The M10 Grip Walk bindings are our choice for adjustable, step-in release bindings this season. These come with free mounting and free wide brakes. Adjustments can be done by hand and fits ski boot sizes 261-384 mm (approx. size 4 – 14 U.S.)
Atomic Warden MNC 11 Step-In Release Bindings. Built for high performance, these automatic release bindings come with a higher DIN range of 3.5-11. This binding is slightly oversize with extra long wings for great lateral transmission, yet rides lower on the skiboard (height 16.5 mm). If you ride your skiboards hard, in moguls, parks or wherever, these are a good choice. Boot size range is 262mm to 382mm (approx. 4-15 US). Easy to adjust by hand. Skier weight 94-264 lbs.
Snowboard Bindings: We recommend the Technine Custom Pro DS Snowboard Bindings with Summit Riser kit for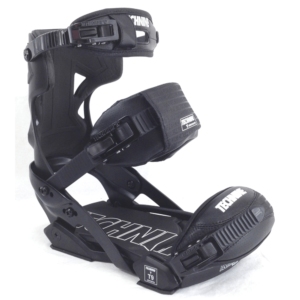 high performance with snowboard boots. These were designed by us to work perfectly with skiboards, while allowing you the comfort of using snowboard boots on your skiboards. For 5 years running now, these have a proven track record of skiboard performance with snowboard boots. The Custom Snowboard bindings feature 3 padded rachet straps to hold you in place when carving. This allows a more stable interface between boots and bindings.  Includes two Leashes ($9.90 value) and Summit Snowboard Binding Riser Kit. Fits snowboard boot sizes 7-14 US.
AT bindings: Salomon Guardian AT Bindings available with free heel climbing and DIN setting for downhill riding.