Description
Summit Skiboards introduces their ever popular Summit Bamboo 110 cm 3D Skiboards.  These Bamboo top 110cm skiboards look remarkable and sell out quickly. This year a special Carbonium 3D top sheet was added that provides additional durability to the top sheet and bamboo, while allowing the awesome graphics to pop! The 110cm Summit Skiboards deliver almost effortless carves, with a super smooth flex thanks to the northern birch/poplar wood core with bamboo top layer. These are made to provide stability at speeds that are sweet.  These skiboards provide a high energy responsiveness and hold an edge, no matter how much you lay it over.  
Go Anywhere: The 110 cm length is the perfect length for all mountain skiboarding. Whether hitting those secret powder stashes, plunging down steep chutes or making super fast turns through the moguls and trees or just having a blast on the open runs, these will do the job. The aggressive beveled edges and torsional stiffness provide amazing hold on hard pack and ice, delivering speed without chatter. In addition, a rubber dampening layer is included to absorb vibrations, while still allowing maximum road feel.
Handcrafted: As with all Summit Skiboards, these skiboards are handcrafted one pair at a time. Summit spares no expense in selecting just the right combination of quality materials for one goal – maximum performance and fun on the slopes. These Bamboo 110 cm skiboards feature a super high quality construction with a parabolic sidecut that functions impeccably with the vertically laminated wood core. This is backed by a 2 year manufacturer warranty.  Translated, Summits will ride like no other brand of skiboards. These definitely rival longer skis, with much more maneuverability, easy stops and confidence traveling anywhere on the mountain.
Multiple Binding Options: One unique thing about the Summit Bamboo 110 cm 3D Skiboards is that they accommodate a full range of binding options, including ski release bindings like the Atomic M10, backcountry Salomon AT bindings, telemark bindings or even snowboard bindings — like the Technine Custom Pro DS Snowboard Bindings. A special aluminum layer (does not inhibit flex) is installed beneath the top sheet for maximum retention of mounted release bindings as well as providing enhanced edge grip. In addition, the Bamboo 110 features 4 stainless steel inserts to easily accept non-release or any snowboard bindings.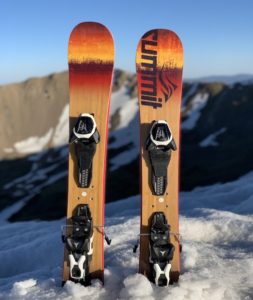 "The Summit Bamboo 110 cm 3D Skiboards is one of our most popular skiboards, offering stunning beauty yet high performance. These are great inbounds, off trail as well as in the backcountry. The Bamboo 110 is a true all mountain skiboard, comfortable anywhere and in any conditions.". Doc Roberts, President, Summit Skiboards, Inc.
Recommended for: intermediate, advanced to expert riders. 
| | |
| --- | --- |
| Groomed | ∆∆∆∆∆ |
| All Mountain | ∆∆∆∆∆ |
| Terrain Parks | ∆∆∆∆∆ |
| Powder | ∆∆∆∆ |
| Backcountry | ∆∆∆∆ |
Sold in Pairs.
Warranty: 2 years
Base color may vary between red/black letters and black/red letters.
Tuning: We recommend getting your bases hot waxed before riding. You can choose our Add a Hot Wax Service and receive your skiboards waxed and ready to ride. You can use our Quick Mini Tune Kit to maintain your skiboards in optimal condition.
More about skiboard bindings and advantages of each.
Read more about Summit Skiboards – Testimonials