Description
ALTITUDE ACCLIMATION SUPPLEMENT
Altitude RX Altitude Wellness Supplement – Altitude Rx™ patent-pending formula of all-natural ingredients takes a preventative approach to reducing Acute Mountain Sickness symptoms. Our scientists used the most potent compounds available in amounts shown to prevent symptoms of Acute Mountain Sickness in placebo-controlled clinical studies. The active ingredients in Altitude Rx safely and effectively maximize energy and endurance, maximize oxygen levels and fend off the negative effects of high altitude induced stress. This results in an increase in your body's oxygen levels resulting in improved energy and endurance at high-altitude.
DECREASE THE EFFECTS OF ACUTE MOUNTAIN SICKNESS
One of the active ingredients in Altitude Rx™ promotes increased blood flow throughout the body and decreases blood viscosity … which offsets the negative effects of the low oxygen levels found at high altitude. Better blood flow at altitude delivers more oxygen to your brain … eliminating headaches … and more oxygen to your muscles… so that you enjoy your time at higher altitudes.
Suggested Use:
As a dietary supplement take 2 capsules twice a day starting 24 hours before travel to high altitude or upon arrival. Do not exceed 4 capsules in a 24-hour period. Take consistently for the duration of your stay at high altitude. Supply per bottle: 20 vegetable caps (5 day supply).
Review:
"I want to let you know how much I like your product! I purchased your Altitude Rx after seeing an ad in one of my hunting magazines (if I remember correctly). I used it on an elk hunt in Wyoming this October. I spent 2 weeks between 8 and 11000 ft. I experienced only a very mild, dull head ache for the 1st two days. I worked my tail off up there under winter weather conditions packing up to 95 pounds in snow, etc. I felt great!! Over the last 10 years that I have been going to this location, I would experience a severe head ache by the 2nd night at those elevations and also be very lethargic. I would feel very sick, loose sleep do to the pain, and even feel a since of panic. None of these things happened while taking your product!!! I always train hard before these hunts but due to schedules and distances here in Southern California, I just never seem to be able to get up to our local mountains for elevation training ahead of the trips to Wyoming. I can't tell you how happy I am to have discovered your product!!!" Thank you. David Fisher, OD, Southern California
Is Your Body Ready?
You're headed for a long-awaited vacation in the Rocky Mountains. You fly into Denver International Airport at 5,320 feet above sea level … you hop on a smaller jet that takes you right to the Aspen/Pitkin airfield at 7,815 feet …
And finally, you arrive by taxi at a spectacular alpine chalet in bright sunshine with azure-blue skies at 7,908 feet – just steps away from your room is a chairlift that can take you up to 11,200 feet.
You look all around you. The valleys are filled with fir and spruce trees. The peaks tower above you. The mountains beckon you to ski, or snowboard, or hike, or hunt, or fish – whatever you came to the mountains to do. As you settle into your room with a 180-degree view of the soaring ridge you plan to hike to tomorrow morning, you notice a slight pain just behind your eyes …
An hour later, you've got a throbbing headache …
A couple of hours later, your stomach is spinning, you feel short of breath, and all you can do is curl up in the fetal position and try to sleep …
Altitude Sickness or Acute Mountain Sickness?
AMS as physicians call it – can wipe you out for 1-3 days when you travel to high elevation (8,000 feet or more) without giving your body time to adjust. Though less common, some people even end up with more serious high-altitude ailments that require immediate evacuation to lower altitude and a trip to the emergency room.
Experienced mountain climbers and alpine athletes spend days acclimatizing their bodies to the high altitude, and as much as six weeks for extreme altitudes. The most common practice is to go up high to train and then head back down again to sleep … climb high and sleep low.
But this practice just isn't practical for the average traveler to the mountains. With our fast-paced lives, who has the time and extra money to spend a few days or weeks slowly working our way up into the mountains?
For most of us, the usual remedies of drinking lots of water and limiting physical activity still require a day or two of enduring unpleasant symptoms and lying around for a couple of days, hoping we feel better before our time in the mountains runs out.
How Altitude Rx TM Works
Each ingredient in Altitude Rx™ has been shown to reduce the occurrence and duration of Acute Mountain Sickness in controlled clinical studies. Our scientists used the most potent compounds available in amounts shown to prevent symptoms of Acute Mountain Sickness.
The active ingredients in Altitude Rx™ safely and effectively:
| | |
| --- | --- |
| | Maximize Energy and Endurance |
| | Maximize Oxygen Levels |
| | Fend off the Negative Effects of High Altitude Induced Stress |
Gingko Biloba
Ginkgo biloba has a remarkable ability to increase blood flow throughout the body, enabling it to cope better with decreased atmospheric oxygen levels. The leaf extracts have antioxidant properties which increase vasodilation and peripheral blood flow in the capillary vessels. Ginkgo also decreases blood viscosity and helps regulate cerebral energy metabolism.
The results of recent studies are the most compelling data to date supporting the efficacy of Ginkgo biloba in prevention of AMS. In these studies, the group taking Ginkgo biloba had no increase in their AMS score (which is remarkable), while the acetazolamide and placebo groups showed increases of 36% and 54%, respectively. The authors concluded that their study provides evidence supporting the use of Gingko biloba in the prevention of AMS, demonstrating that 24 hours of pre-treatment with Gingko biloba and subsequent maintenance during exposure to high altitude are sufficient to reduce the incidence of AMS in participants with no previous high-altitude experience.
Rhodiola
Rhodiola rosea has been categorized as an adaptogen by scientists due to its ability to increase resistance against a variety of chemical, biological and physical stressors and to help the body to recover homeostasis. Rhodiola rosea is also known for it's ability to fight fatigue and increase energy. Rhodiola also promotes faster adaptation to climatic changes.
Athletes have used Rhodiola to improve increase endurance and improve performance. It is also believed to increase strength and shorten recovery after strenuous and prolonged endurance events and workouts.
Rhodiola also has been shown to reverse the effects of asthenia. It reduces fatigue, labored breathing, rapid heart rate, sluggishness, and excessive sleeping.
Alpha-Lipoic Acid (ALA), Vitamin C and Vitamin E
Antioxidants are substances or nutrients in our foods which can prevent or slow the oxidative damage to our body's cells. When our body's cells use oxygen, they naturally produce free radicals (by-products) which can cause damage. ALA, Vitamin C and Vitamin E all work in a synergistic manner to protect our body's cells from free radical damage.  In a recent study, antioxidant supplementation (alpha-lipoic acid, Vitamin C and E) at high altitude was shown to be an effective intervention for reducing AMS and improving the physiological profile of mountaineers at high altitude. This study was done with mountaineers climbing Mt. Everest.
What is High Altitude?
High altitude is considered to be between 5,000 and 11,500 feet (1,524 and 3,505.2 m) above sea level. Very high altitude is any altitude between 11,500 and 18,000 feet (5,486.4 m), and extreme altitude is anything above 18,000 feet.
What causes Altitude Sickness?
Altitude sickness is the name given to the human body's physiological reactions that occur as a result of low oxygen pressure that exists at high altitudes. At higher elevations oxygen levels decrease. The problem of Acute Mountain Sickness starts when acclimatization does not keep pace with your ascent to high altitude. This happens when you ascend to quickly or go from sea level to high altitudes in a day and your body cannot get as much oxygen as it needs or is accustomed too. Even the top endurance athletes know to get to a high altitude race location a few days early to acclimate to the altitude.
Symptoms of Altitude Sickness include:
• Headache (headache)
• Fatigue (physical exhaustion)
• Sleep Disorder
• Nausea and Vomiting
• Digestive Disorders
• Agitation
• Vertigo
Who can get altitude sickness?
Anyone who goes to high altitude can get Acute Mountain Sickness. It is primarily related to individual genetics and how fast you go up. There is no difference in age, gender, physical fitness, or previous visits. Some people acclimatize quickly, and have no problems; others acclimatize slowly and feel bad for a few days and others progress to the more serious forms.  There is no way to predict who is likely to get sick at high altitudes.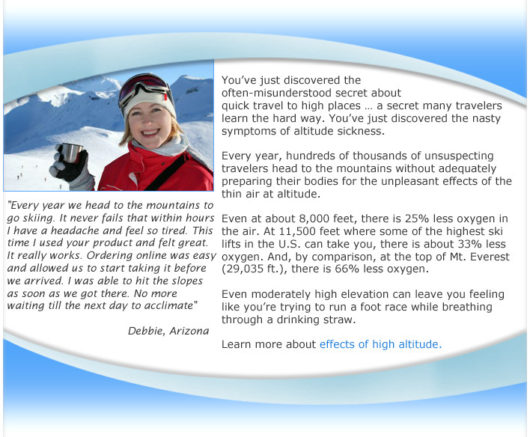 What is Acclimatisation?
The main cause of altitude sickness is going too high too quickly. Flying to a high altitude destination does not allow the body to acclimate quickly. With time however, your body will adapt to the decrease in oxygen at a specific altitude. This process is known as acclimatisation and generally takes one to three days at any given altitude, e.g. If you go from sea level to 5,000 feet and spend several days at that altitude, your body will acclimatise to 5,000 feet. If you then climb to 10,000 feet your body has to acclimatise once again.
Your body undergoes several changes to deal with the decreased oxygen levels at higher altitudes:
• You breath faster and deeper
• You experience shortness of breath with exertion
• You will exhibit a different breathing pattern as you sleep
• You will awaken more frequently at night
• Your body's hematocrit will increase as more red blood cells are produced.
• You will experience increased urination
• The body increases productions of an enzyme that causes the release of oxygen from hemoglobin to the body tissues.
• All of these changes are a normal response to decreased oxygen level.